A video as a background for the Web page, fullscreen background video
Embed this video as responsive fullscreen background in Joomla Websites
Here you see a module for CMS Joomla 3 using the ingenious script of Matteo Bicocchi jquery.mb.YTPlayer http://pupunzi.com.
This video can be embedded from YouTube. The resources in the charging process is low the best choice of image quality HD 720th
Operates at speeds of
2 MB / s perfectly.
For all browser supports YouTube.
The module is securely still expandable but for my purposes it was enough.
By setting start and end advertising can be excluded.
Furthermore, filters for black / white and sepia can be set.
The ID is located at the end of www.youtube.com/watch?v=
8GpDXV9BfLU
Links
Or. in the short URL https://youtu.be
/

8GpDXV9BfLU
Some settings that I have integrated:
jquery.mb.YTPlayer for Joomla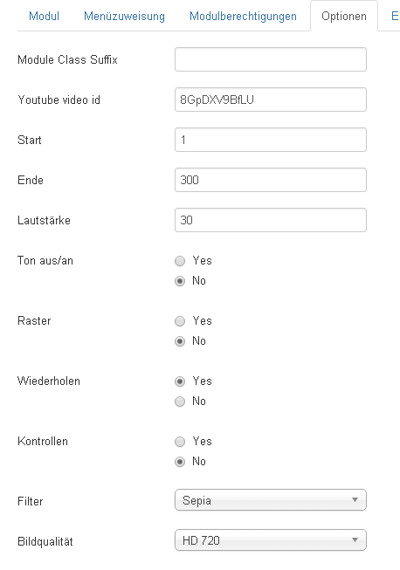 If you're interested and want to use it for your website writes me.
Your email is used not for any other purpose - promise!
It is free of charge. The module can be freely used without warranty.
Liability for damage caused by the use is not assumed.
Even what might legal issues concerns regarding the license from YouTube videos, you need to make you knowledgeable.
You can in doubt your own videos to upload.